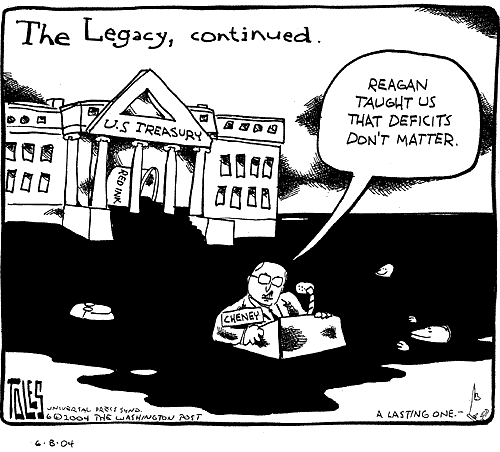 Deficits Matter If The Rest of The World Thinks They Do



Dick Cheney once famously remarked that "Reagan showed us that deficits don't matter". His dubious claim rests on the myopic thinking that doesn't acknowledge the interconnectedness of the world economy. There isn't an economist alive that wouldn't view a widespread divestment on the part of Asian Central Banks as a disaster for the American economy. Of course, you could argue that the lower price of American exports could mitigate the harmful effects of such a pullout, but take off your shirt and look at the label...Where is it made? Consider where the components of your car are made; consider where most of our stuff you buy at Wal-Mart comes from...Nothing is made in the states anymore.

Three days ago, the euro was sitting pegged at 1.3216 against the dollar. Today, Bloomberg reported that it's risen to 1.3157. It's dramatic rise is best seen within the context of the burgeoning deficit of 427 billion accompanied by our boondoggle in Iraq. It's no wonder that Europe and Asia are diversifying; it only makes sense to not gamble on a country with risky economic policies.

On Tuesday, Korea led the charge:

South Korea's decision to sell most of its U.S. government bonds triggered similar moves in East Asia and hammered the U.S. currency's value.

South Korea's action was mimicked by at least Taiwan, another economy that holds a huge amount of U.S. government debt, sending the dollar to new lows, CNN reported Tuesday.

In London, the euro soared against the dollar to $1.3216, up from $1.3065 late Monday, as the dollar sank against Japan's yen 103.87 from 105.57.


Read It:

Deficits do matter, Dick.