Buy Nothing Christmas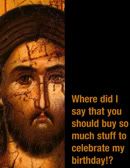 The brilliant web provacateurs Adbusters.orghave launched a new campaign for the holiday season following on the heels of their "Buy Nothing Day" campaign. Because I have two wonderful nieces, and like a good excuse to give them gifts, I'm not going to particate fully. My siblings and I have agreed not to give eachother gifts this christmas, however. What's important to us is being able to be together for a few days during the holiday, and cheap crap from Wal-Mart made by Chinese slave labour would do nothing to make our time together any better.

The "Buy Nothing Christmas Campaign" is a great idea to the extent that it challenges us to consider the true reason for the season. This holiday season, my gifts will better reflect my values.