IMPORTANT! IMPORTANT! SOCIALLY AWKWARD WEALTHY YOUNG MAN FROM DYSFUNCTIONAL FAMILY WEARS INAPPROPRIATE COSTUME TO PARTY!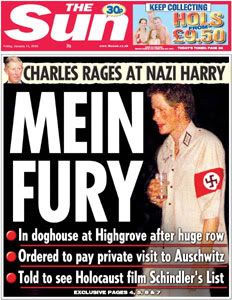 Why is this front-page news that trumps all other news, such as the trial of Charles Graner for the Abu Gharaib abuses? Why is this more of a scandal than the son of Margaret Thatcher admitting to having sponsored a coup in Equatorial Guinea? Prince Harry will never be more than a figurehead, but Mark Thatcher has actual influence.

Here's what the South African Independent has to say about his case...

On Thursday he pleaded guilty to helping to fund a mercenary plot in West Africa - a charge on which he had been arrested in August during an investigation into a foiled coup plot in oil-rich Equatorial Guinea.

He admitted paying $275 000 (about R1,6-million) to hire a helicopter although he suspected his long-standing friend, Simon Mann, a former British special services soldier, wanted it for mercenary activity.

A plea bargain spares Thatcher jail while the Eton-educated Mann is serving a jail sentence in Zimbabwe for his role in the Equatorial Guinea coup plot.

Mark Thatcher

Can you guess where Mark is seeking refuge after being exposed as a coup plotter?